Reports and Publications
The MCSS creates reports and publications with support from our funders and key partners to support our initiatives and events. Selected reports and publications are available below. In addition, the MCSS maintains several affiliated websites with valuable resources for community college leaders including the Michigan Transfer Network, MiTransfer Pathways, Michigan Guided Pathways, and the Right Math at the Right Time.
---
Guided Pathways: The Scale of Adoption in Michigan
January 2018
This report shares the Michigan Guided Pathways story, describing the progress made by 23 colleges over three years in implementing practices in the four broad areas of Guided Pathways as defined by the Community College Research Center.
---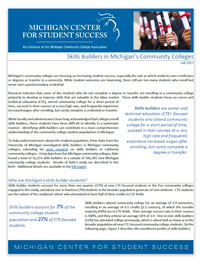 Skills Builders in Michigan Community Colleges
October 2017
This brief and accompanying research paper identifies skills builders at Michigan community colleges. Skills builders are defined as career and technical education (CTE)-focused students who attend community college for a short period of time, succeed in their courses at an exceptionally high rate, frequently experience an earnings boost, but rarely complete a credential or transfer. The brief identifies the prevalence of skills builders, demographic and enrollment characteristics, program areas, and labor market outcomes. The brief shares how colleges can identify skills builders on their own campus and summarizes implications for policy and practice.
---
Additional Publications and Reports

Michigan Credit When It's Due Digital Communication Kit (October 2017)

Tracking Transfer: CEPI's 2015-16 College Transfers Report (April 2017)

Supporting Guided Pathways in Michigan: Lessons Learned from Cohort I (March 2017)

A Resource Guide on Translating Military Competencies into Academic Credit (December 2016)

The Accelerated Learning Program in Michigan (November 2016)

The Right Math at the Right Time: Addressing Mathematics Challenges Facing Michigan Colleges and Universities (October 2016)

Tracking Transfer: Sessions Featured at the Student Success Summit (October 2016)

Guided Pathways Cohort I: Progress and Success (September 2016)

Lessons Learned from Michigan's Project Win-Win (September 2016)

Project Win-Win Practice Guide (September 2016)

Tracking Transfer: June Issue (June 2016)

Tracking Transfer: May Issue (May 2016)

Tracking Transfer: April Issue (April 2016)

Using Multiple Measures for Placement in College Composition (April 2016)

Using Multiple Measures for Placement in Mathematics (April 2016)

Forging New Pathways: The Impact of the Breaking Through Initiative in Michigan (November 2012)

Autonomy and Innovation: Systemic Change in a Decentralized State (October 2012)